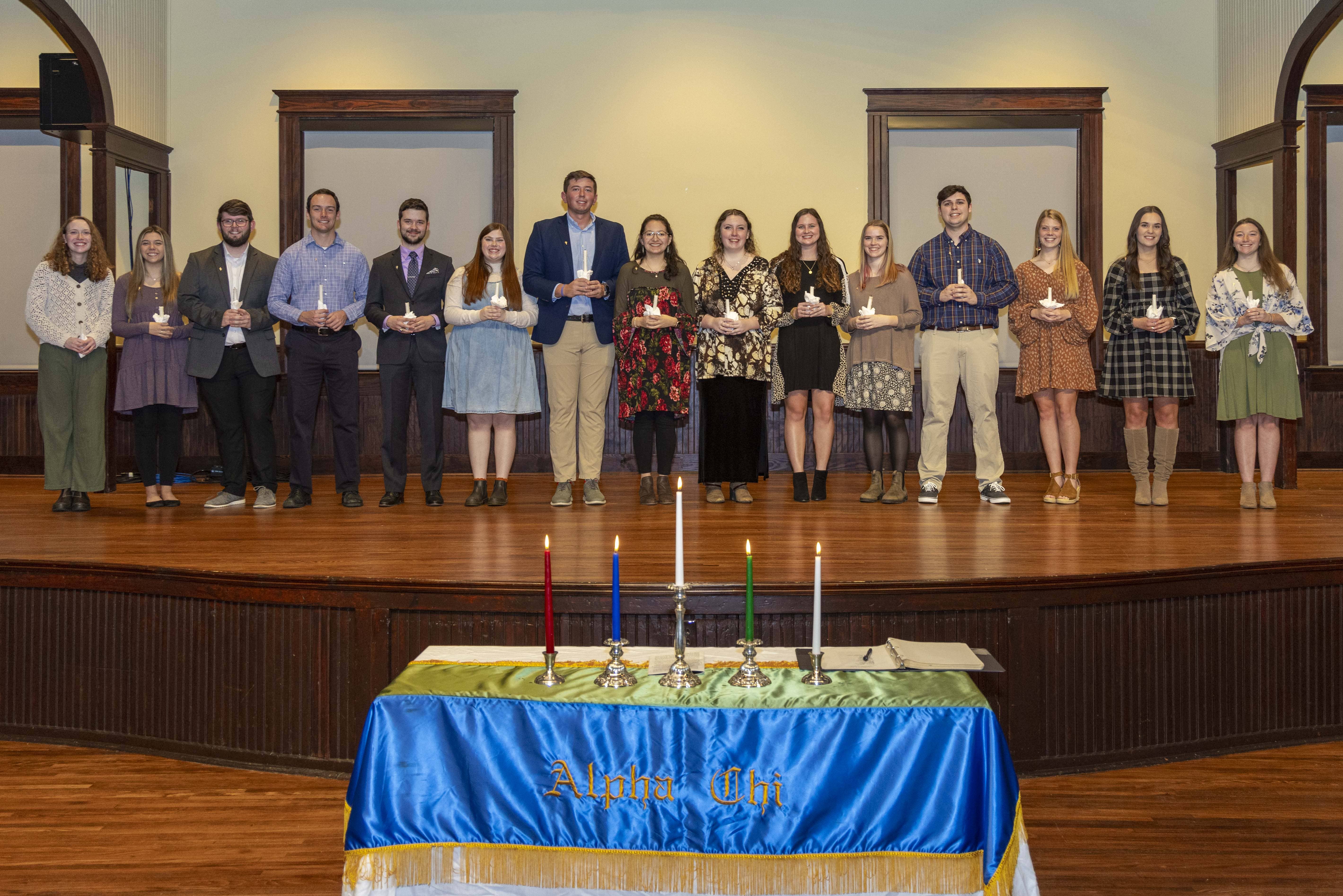 Photo courtesy of Bramblett Group
Henderson, Tennessee — Nineteen Freed-Hardeman University students were inducted into the Iota Chapter of Alpha Chi National Honor Scholarship Society Monday, November 14, 2022, in Old Main on FHU's campus.
Members of Alpha Chi uphold its principles of Truth and Character and its motto – "Ye shall know the truth, and the truth shall make you free." John 8:32. Alpha Chi membership is by invitation only to juniors and seniors with a minimum grade point average of 3.75 on at least 80 earned credit hours and candidates must be in the top 10% of the junior and senior class to qualify for membership.
This fall semester's inductees have earned a 3.97 grade point average or higher. The following students were inducted: Caden Arnold, a kinesiology exercise science major; Victoria Baldwin, a interdisciplinary studies with concentration in middle school major; Gracie Barrier, an English, secondary education major; Andrew Black, an accounting: fraud examination major; Matthew Carver, a kinesiology exercise science and rehabilitation major; Eric Cox, an English, Christian apologetics major; Macy Forthun, a special education- k-12 major; Chris Goodrich, a management, sport administration major; Kayla Hunter, a social work major; Deborah Kenney, an English major; Brooke Latham, a biology major; Callie Myers, a social work major; Jess Musselman, a chemistry major; Sara Ragan, a marketing major; Tyler Stafko, a sport administration major; Zoe Stom, an interdisciplinary studies with concentration in elementary education major; Rachel Thomas, a nursing major; Bre Tonkery, a chemistry and mathematics major and Mary Katherine Walker, a biology environmental science major.
Alpha Chi President Casey Jackson, a senior elementary education major, introduced each of the new members and recited the pledge for each candidate to repeat after their name was called during the ceremony.
"We invite you to wear your Alpha Chi pin during the week of induction," Jackson said to the candidates. Alpha Chi member Cameron Kuhl made a brief presentation about his fall service project with Remote Area Medical to provide free dental services to Henderson and Chester County residents. The evening concluded with a reception for inductees and their guests.
Additional Alpha Chi officers include Bowman Blocker, vice president; Lydia Todd, vice president and Emily Christensen, secretary.
The mission of Freed-Hardeman University is to help students develop their God-given talents for His glory by empowering them with an education that integrates Christian faith, scholarship and service. With locations in Henderson and Memphis, FHU offers associate, bachelor's, master's, specialist and doctoral degrees. More information is available at fhu.edu.