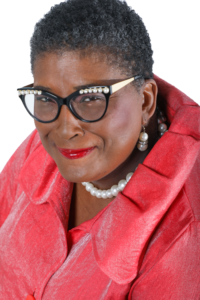 In this episode of "Hub City Now" host Tyrone Tony Reed Jr. interviewed Dr. Cynthia Bond Hopson, noted author, Haywood County native and cultural historian.
Reed, who is continuing Hub City Now's spotlight on Women's History Month, has known Dr. Bond Hopson for years and the two speak about that during this interview. Dr. Bond Hopson will speak about Brownsville's 7th annual Women's History Month program going virtual this year. Eight women will share their stories on Facebook during "Phenomenal Women Speak," Saturday, March 20, 3 p.m., from the West Tennessee Delta Heritage Center in Brownsville.
Dr. Bond Hopson, will host and facilitate the panel of local trailblazers and leaders. This is the seventh year for the program led by Bond Hopson, whose books on Haywood County include The Women of Haywood: Their Lives, Our Legacy, Wiggle Tales, Times of Challenge and Controversy, and her latest inspirational book Totally Gracefull.
Dr. Bond Hopson will also talk about how over the past six years more than 50 women who live or work in Haywood County have shared their powerful journeys. Panelists are suggested by their peers, former honorees and other community leaders. This year's theme is "Lessons Taught, Learned and Lived."
Panelists will include Ida Ruth Bradford. Blandie Bond, Martha Lyle Ford, Andrea Bond Johnson, Rev. Gussie White Mask, Anitra Denise Shead, Sandra Silverstein and Rev. Felicia Walker.
Dr. Bond Hopson also spoke about presenting an inspirational, and humorous, look at "Womenfolk: Striving, Challenging and Leading the Way!" This International Women's Day program was presented via Zoom, Monday, March 8 at 6:30 p.m. This lecture is a part of the Center's monthly Exhibition Exchange program. You can watch it at the following link:
https://fb.watch/4bDv5UZLBP/
For more information about these free programs, call 731-779-9000 or visit
www.westtnheritage.com
.
Find out more about Dr. Bond Hopson by visiting
www.drbondhopson.com
. So be sure to tune in Sunday, March 14, 2021, at 6:15 a.m. to JJ 97.7 FM Jammin Jackson,
www.radio731.com
or tune in to the Radio 731 app and listen to the show live by clicking on the Jammin Jackson 97.7 FM station.
Hub City Now: Dr. Cynthia Bond Hopson
Hub City Now