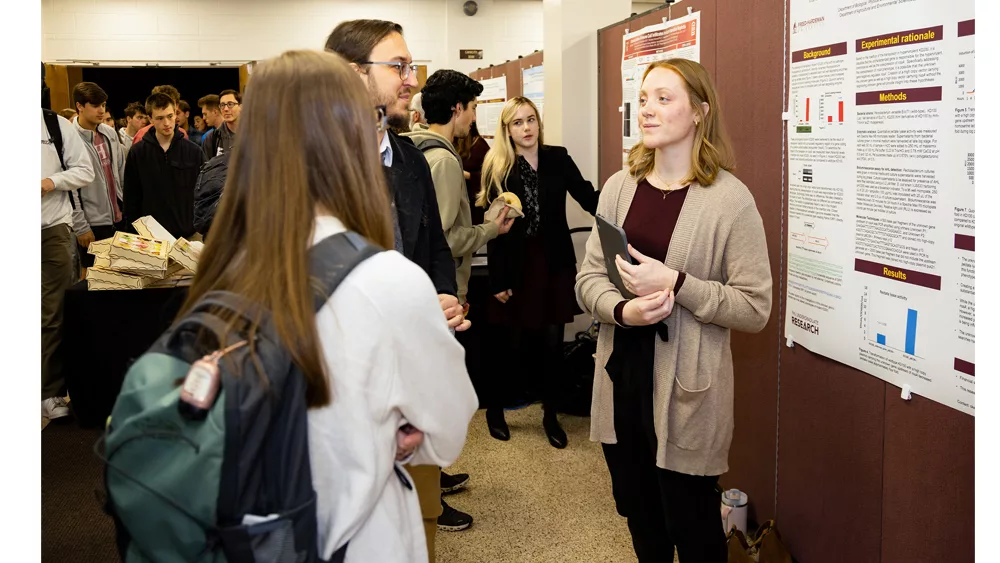 Photo courtesy of Bramblett Group: FHU senior biology major Josie Gannon discusses her poster presentation titled "Into the Unknown: Updates on an Uncharacterized Gene's Role in the Soft Rot Pathogen Pectobacterium Versatile."
Henderson, Tennessee  — Freed-Hardeman University's Eighth Annual Scholars' Day, an annual campus-wide celebration of academic excellence, included oral presentations, poster presentations, a STEM display and musical performances. More than 80 individuals shared research findings and other scholarly accomplishments with fellow faculty, staff and students in a variety of locations across the Henderson campus. As is tradition, academic classes were canceled Nov. 3 to provide the student body the opportunity to attend the presentations of their choosing.
FHU Department of Fine Arts Professor Emerita Laquita Thomson, a regional artist with a career spanning more than 50 years, was the keynote speaker at the opening session. Her presentation was moderated by Jud Davis, associate professor of art.
A former faculty member, Thomson has devoted her life to the mastery and practice of her craft, becoming accomplished in a variety of media: printmaking, painting, drawing, photography and sculpture. Her work has been exhibited in prestigious venues since 1982 and has been collected by both private patrons and public institutions. A historian, as well, Thomson has published 11 articles about Southern culture and history.
She earned her B.F.A. from the Mississippi University for Women, an M.A. from the University of Alabama-Birmingham, a second M.A. from the University of Alabama-Huntsville and an M.F.A. from Auburn University. Thomson retired from FHU after serving as a faculty member for 14 years.
"Laquita Thomson's impressive bio was surpassed only by her humble and informative interview as our University Scholars' Day keynote," said FHU President David R. Shannon. "FHU's mission involves empowering students with an education integrating the Christian faith, scholarship and service. We are grateful to each presenter for the research and scholarship that made this missional event an overwhelming success!"
Forty-four oral presentations covered a variety of disciplines, including: "The Turtle from Head to Shell"; "From Pharmacy Lab to the Micro Lab: Identifying Bacterial Contaminants from a Compounding Facility"; "Reconciliation and Reintegration: The Case for Jesus in Social Work"; and "Are You Wasting Your Twenties? How this Decade is Creating the Future You — and How to Take Control Now."
FHU seniors Ana Holland and Sarah Henley presented "Are You Wasting Your Twenties?" with the support of associate professor Amy Sewell. "Our work/life classes have really taught us things to be aware of, how to prepare our resumes to be promoted and leverage our skills and the importance of teamwork," said Holland, a business major. The students offered four tips — build identity capital, date intentionally, manage time wisely and go do things.
"It's important to make connections in addition to using technology," said Henley, an interactive digital design major. "We should practice digital minimalism and take the time to do something productive."
Students also discussed social and life issues in presentations that included "Gender, Attachment Style and Rejection Sensitivity as Predictors of the Fear of Being Single in Unmarried Emerging Adults" and "Loneliness and Attachment Styles as Predictors of FOMO in Young Adults."
"Those presentations speak to a real world discussion that is needed for students," said Roy Malecha, assistant professor of social work and director of field education.
Senior biology majors Josie Gannon and Bailey Gilbert, in collaboration with assistant professor of biology Caleb Kersey, presented "From Pharmacy Lab to the Micro Lab; Identifying Bacterial Contaminants from a Compounding Facility." It was Gannon's second time presenting during University Scholars' Day. "I was less nervous this time," she said. "We examined bacteria that grows on media, and we took environmental samples." Gannon is applying to doctoral programs and hopes to work as an advisor in the environmental field.
Gannon was also among the students who shared poster presentations that were on display in the Loyd Auditorium lobby. Her poster presentation was titled "Into the Unknown: Updates on an Uncharacterized Gene's Role in the Soft Rot Pathogen Pectobacterium Versatile."
The following students also presented posters: Katie Stickels, of Woodstock, Georgia; Dan Chang, of Sugar Hill, Georgia; Clark Endsley, of Smyrna, Tennessee; Matte Hardin, of Terrell, Texas; Allison Jones, of Columbia, Tennessee; Brooke Latham, of Hendersonville, Tennessee; Danny Ngabonziza, of Kigali, Rwanda (Africa); Addie O'Brian, of Aberdeen, Mississippi; Emma Baker, of Wetumpka, Alabama; Sarah Grace Callis, of Jackson, Tennessee; Kelsie Hewes, of Pueblo, Colorado; Alyssa Lemay, of Columbia, Tennessee; Molly Paterson, of Milan, Tennessee; Ruth Smith, of Shelbyville, Tennessee; Hannah Brown, of Bradyville, Tennessee; Jake Smith, of Trenton, Tennessee; Caroline R. Gibbs, of Holland, Texas; and Elliha C. Baker, of San Diego, California.
FHU Theatre students and faculty led a three-part discussion about debuting "The Feed," an original play, at the Edinburgh Festival Fringe. This international celebration of arts and culture in Scotland runs for three weeks in August each year. Senior FHU Theatre major Ashlyn Chandler said the trip was a great learning experience, and the enthusiastic response from the opening-night audience energized the 21-member cast and crew.
"The presentations made by our faculty and students were outstanding; congratulations to all!" said Dr. C.J. Vires, vice president for academics and provost. "As provost, I have three favorite days of the year: Tolling of the Bell, graduation and University Scholars' Day."
The mission of Freed-Hardeman University is to help students develop their God-given talents for His glory by empowering them with an education that integrates Christian faith, scholarship and service. With locations in Henderson and Memphis, FHU offers associate, bachelor's, master's, specialist and doctoral degrees.