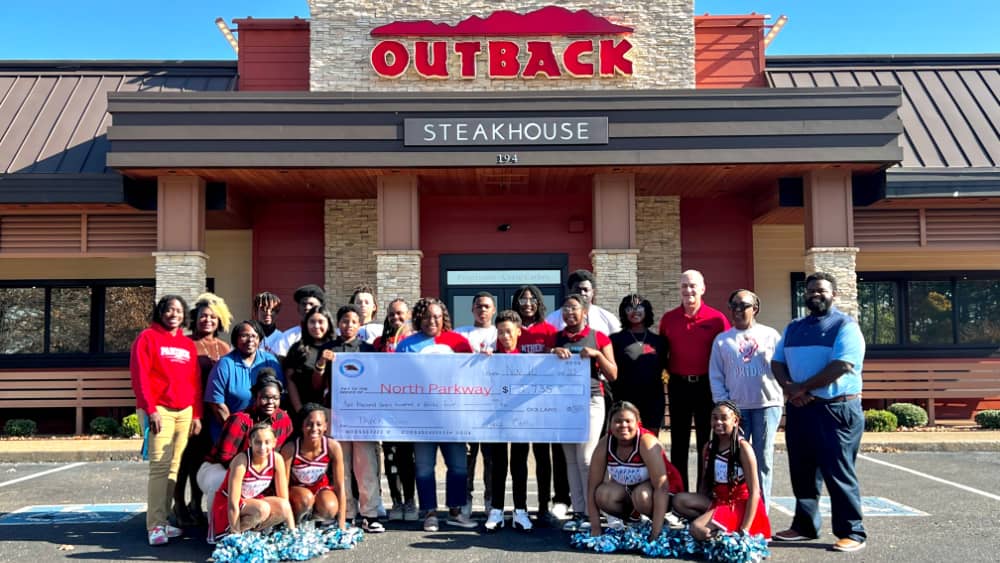 Photo courtesy of JMCSS
Local Outback Steakhouse proprietor Craig Cathey presented a $2,735 check to North Parkway Middle School on Wednesday, November 9 to assist the school's cross country and track teams with purchasing new uniforms and equipment. The Panthers were selected due to the school's unique connection to the Outback store at 194 Stonebrook Place.
"I love both of my jobs and I knew this donation could help both Outback and the school in many ways," said Tanjinikia Tyson.
Ms. Tyson is attendance secretary, athletic director, and head coach of the boys and girls cross country and track teams at North Parkway. She's also senior manager of the local Outback Restaurant where she has worked for 26 years.
"I was very excited. We have received donations, but this has been one of the largest monetary ones. We are blessed and truly thankful for the support of our local Outback Steakhouse," Principal LaDonna Braswell said.
An additional $2,500 in gift cards was provided to spur attendance and financial support at North Parkway athletic events. In an effort to help others, North Parkway is giving $1,500 of the donation to athletic programs at other JMCSS middle schools ($300 each).
"Mr. Cathey, and our region president Mr. Steve Grantham, Jr., value their employees and they believe in supporting the Jackson community. This donation warms my heart. I'm overjoyed and my Outback staff is excited to support our middle schools," Ms. Tyson said.
Outback Steakhouse is open Monday-Thursday from 3 p.m.- 9 p.m.; Friday 3 p.m. – 10 p.m.; Saturday 11 a.m. – 10 p.m.; and Sunday 11 a.m. – 9 p.m.