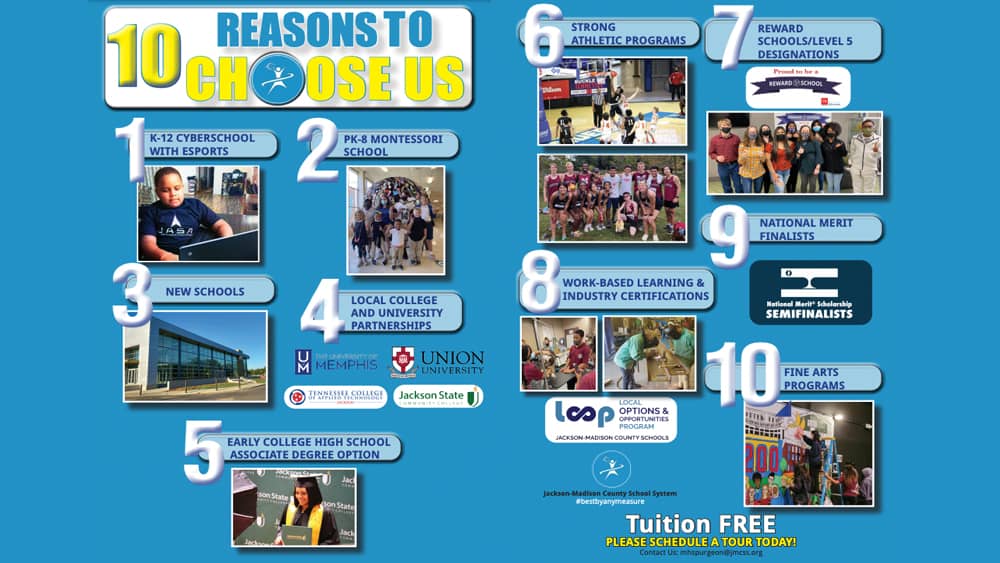 Flyers courtesy of JMCSS
Superintendent Dr. Marlon King has announced the launch of a new campaign to celebrate the accomplishments of notable alumni and update the community on landmark progress being made across the district in all grade bands. Joined by several members of his Central Office team, Dr. King initiated the opening phase of the CHOOSE US campaign by engaging the Central West Tennessee Association of Realtors (CWTAR) October 27.
"There are literally hundreds of successful people who have graduated from the public school system and have gone on to impact our community, region, state, nation, and world. JMCSS is continuing to educate and graduate quality leaders. That's the message we want to communicate with this campaign," Superintendent Dr. Marlon King said.
A concise message of progress that can be shared with and by community partners is critically important for JMCSS as the community prepares for the industrial and residential impact of Ford's Blue Oval City on West Tennessee.
"From industry and retail to education and tourism, every civic leader and business owner has to prepare for the growth that's expected for our region over the next three years. Dr. King has positioned our public school system for growth since his arrival in 2020. The CHOOSE US campaign is the next phase of those communication and engagement efforts," stated Chief External Affairs Officer Melissa Spurgeon.
Billboard and media advertisements will be utilized in the new campaign, but presentations and engagements like the CWTAR event will be the staple of the CHOOSE US effort.
"My team and I are excited to share the amazing accomplishments of our students and alumni. We're expanding educational offerings for families in Jackson-Madison County," said King. "Relationships will be built in the process, so personal engagement will continue to be the hallmark of the CHOOSE US campaign."