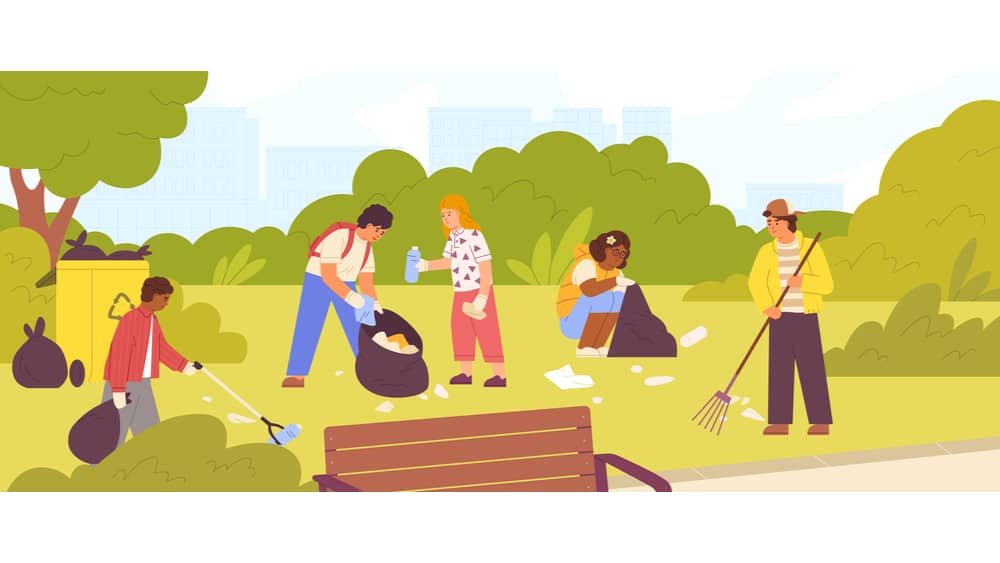 Image, Shutterstock
City of Jackson Mayor Scott Conger is asking for volunteers to participate in a community wide trash pickup event on Saturday, April 24, during the Earth Day Festival, according to a news release from the Mayor's Office. Individual volunteers, businesses, organizations, service groups, non-profits or other groups can sign up to volunteer at earthday.jacksontn.gov.
Upon signup, volunteers will select an area to work in from Northeast Jackson, Northwest Jackson, Midtown Jackson, East Jackson and South Jackson. Team captains and co-captains include Mayor Scott Conger, City Councilman Russ McKelvey, City Councilman Paul Taylor, City Councilwoman Marda Wallace, City Councilman Johnny Dodd and Jackson Madison County School Board Member Doris Black.
Northeast Jackson:
Ridgecrest Rd from Dr. F.E. Wright Dr / Christmasville Rd to N Highland Ave
Old Humboldt Rd / Volunteer Blvd from Hwy 45 Bypass to N Highland Ave
Oil Well Rd / W University Parkway from Hwy 45 Bypass to N Highland Ave
E University Parkway / Cooper Anderson Rd from N Highland Ave to Old Medina Rd
Northwest Jackson:
Old Humboldt Rd from Hwy 45 Bypass to Ashport Rd
Oil Well Rd / Pipkin Rd from Hwy 45 Bypass to Express Dr
Pleasant Plains Ext from Country Club Ln to Oil Well Rd
Country Club Ln from Express Dr to Pleasant Plains Ext
Midtown Jackson:
Hollywood Ave from Airways Blvd to Russell Rd
Russell Rd from Hollywood Ave to North Parkway
Lambuth Blvd from Airways Blvd to N Highland Ave
Skyline Dr from N Highland Ave to Wallace Rd
East Jackson:
Chester St from Shirlene Mercer Park to Hillcrest Circle
Royal St from E Main St to North Parkway
Lexington Ave from Royal St to Dr. F.E. Wright Dr
Whitehall St from Lexington Ave to Dr. F.E. Wright Dr
South Jackson:
Highway 18 from S Highland Ave to Malesus Park
Bemis Ln / A St from S Highland Ave to Tennessee St
Missouri St from Harts Bridge Rd to D St
D St from Missouri St to Riverside Dr
Riverside Dr from D St to W Main St
Volunteers will meet at the Civic Center at 9 a.m. and the City of Jackson will provide trash bags, gloves and trash picking sticks. At 11 a.m. volunteers will return to the Civic Center and will be provided with lunch.
"The courts have been operating at limited capacity and as a result court-ordered community service has declined," said Mayor Scott Conger. "We've seen a significant increase in litter and several groups have asked how they can help clean up the city. I'm looking forward to being out there myself and getting to meet our volunteers. Our goal is to collect 1 ton of trash."
The Earth Day litter pickup event is just one of many activities planned for the Earth Day Festival hosted by the City of Jackson and Keep Jackson Beautiful on April 24 at the Carl Perkins Civic Center parking lot from 9 a.m. to 1 p.m.
Various educational, retail and food vendors will set up in the parking lot. Keep Jackson Beautiful plans to accept glass, blue jeans and old televisions for recycling. They will also accept latex based paint for hazardous waste disposal. Metro narcotics will accept expired medicine for disposal. The City of Jackson will have tree saplings to giveaway as well. Individuals can sign up for the Earth Day virtual 5K at itsyourrace.com.
For more information, visit earthday.jacksontn.gov.