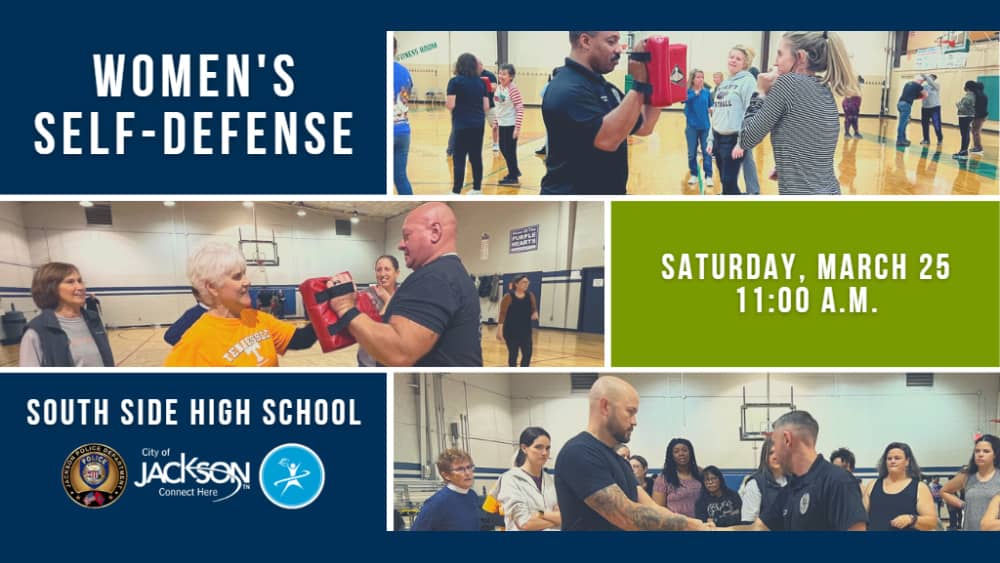 Flyer courtesy of the City of Jackson Mayor's Office
The City of Jackson, TN, Jackson Police Department and Jackson Recreation and Parks Department will hold their third collaborative free women's self-defense class in partnership with Jackson-Madison County School System.
"We want to do our part to prepare citizens with self-defense training. It's all about prevention and situational awareness. It's something we're encouraging moms and daughters to participate in. As a father of three daughters, I want them, as well as my wife, to know how to distance themselves from danger and use preventative measures to protect themselves," said Dr. Jackson-Madison County Schools Deputy Superintendent Dr. Ricky Catlett. "The main thing is teaching our citizens how to be aware of their surroundings. We support these training sessions and we're encouraging any parent or staff member who may be interested to also take advantage of these classes."
The free women's self-defense class will be held on Saturday, March 25, 2023, from 11:00 a.m. to 2:00 p.m. in the gym at South Side High School located at 84 Harts Bridge Road, Jackson, TN 38301.
"The partnership between the City, our Police Department, our Recreation and Parks Department and the Jackson-Madison County School Systems remains strong," said Mayor Scott Conger. "I am thankful that JMCSS has agreed to open South Side High School's gym for more women to take this free self-defense class."
"I would like to thank the Jackson-Madison County School System for partnering with us to host our third free self-defense class for women," said Jackson Recreation and Parks Director Tony Black. "When Dr. Catlett reached out to us with the opportunity to use South Side High School, following our first two successful classes, we were happy to accept."
Over 100 women participated in the first two classes held at Westwood Community Center and T.R. White Sportsplex last year. Registration for the class can be found by visiting the Jackson Recreation and Parks Department website at http://parks.jacksontn.gov.