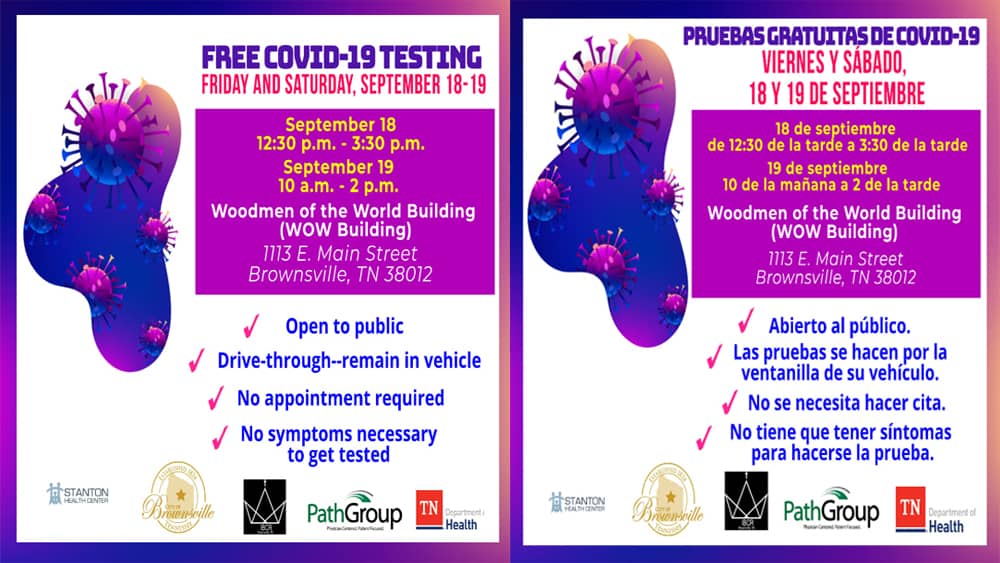 Brownsville, Tenn.- Mayor William D. Rawls, Jr. and the City of Brownsville is hosting a free COVID-19 drive-thru testing and mask giveaway on Friday, September 18, 2020, from 12:30 p.m. to 3:30 p.m., and Saturday, September, 19, 2020, from 10 a.m. to 2 p.m., in the WOW Building parking lot.
This event is open to all Haywood County residents and is a partnership with the Tennessee Department of Health, Haywood County Health Department, and Stanton Health Clinic. The goal is to make COVID-19 testing available to Haywood Countians who are concerned about their health and the health of their family members and the entire community. It is also a plea to local citizens to level up the seriousness of this rural health crisis.
The Haywood County Health Department will sponsor the first day of free drive-thru testing, and the Stanton Health Clinic will sponsor Saturday's testing. The free masks are provided by Shelby County and Mayor Lee Harris who gifted over 500 masks to Brownsville-Haywood County during a COVID-19 Task Force presentation at Brownsville City Hall in mid-August.
This drive-thru event is open to everyone in Brownsville-Haywood County who wishes to receive a COVID-19 test.
Brownsville is the largest city in Haywood County and was recently number one in the State of Tennessee for new daily coronavirus cases. Rawls calls this a rural health crisis because of the 2014 hospital closure which makes this COVID-19 global pandemic even more problematic for this rural community.